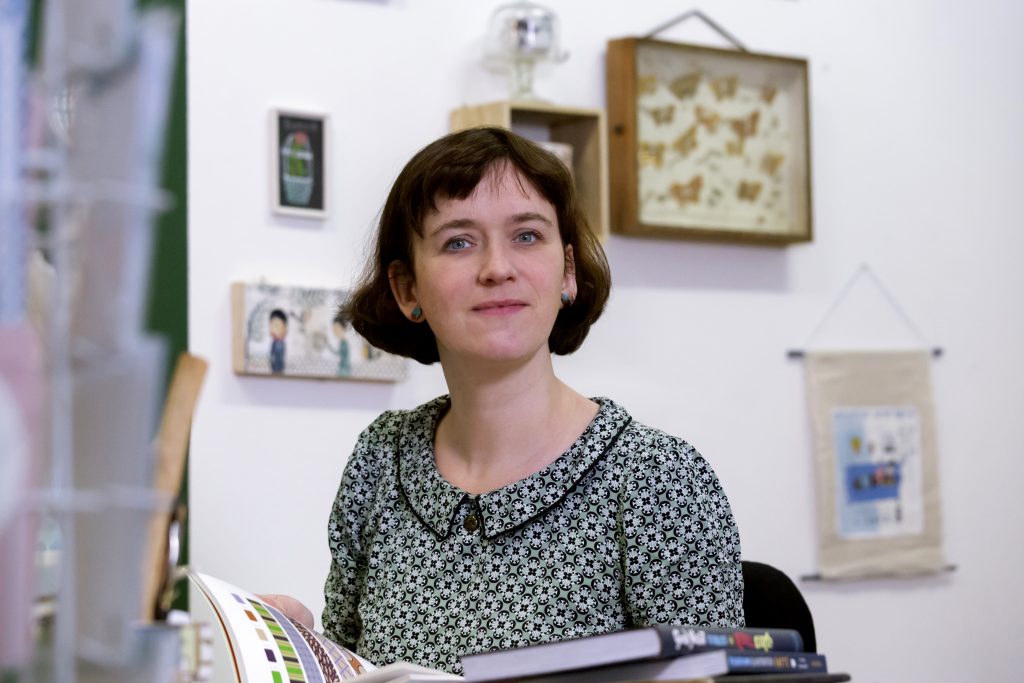 Do you want to get in contact?
my email adress: constanze@constanzeguhr.de
my instagram page: @constanze_illustrates
pinterest: Constanze Guhr Illustration
Facebook: Constanze Guhr Illustration
Do you want to know something about me?
Hello, my name is Constanze Guhr, I'm a german illustrator, living in Berlin.  I dream of running a bookshop in a greenhouse one day  but actually I love illustrating and creating books. Did I mention that I love books? All I do has something to do with books … Therefore my only hobby is reading.
And collecting books and having new ideas. And drawing, illustrating, doodling. Well, that's actuallay my work.
I love beeing an illustrator because it's the best excuse to buy books and art supplies.
I have two desks, one is in a shared studio and the other one is at home. And I have most of my art supplies twice. That makes it easy to work a lot.
Constanze Guhr * Atelier petit4 * Kopenhagener Str. 15 * 10437 Berlin * constanze(at)constanzeguhr.de 0049(30)48 49 46 47
clients
Arena Verlag/ Aladin Verlag/ Beltz & Gelberg/ Berliner Zeitung/ Bertelsmann(Random House)/ Bibliographisches Institut/ Charity gums/ Coppenrath Verlag/ dtv junior/Fischer Verlag/ Gerstenberg Verlag/ Haupt Verlag/ Hörzu/ Jacoby & Stuart/ Koesel Verlag/ moses Verlag/ NZZ/ Oetinger Verlag/ pattloch Verlag/ Ravensburger Buchverlag/ Ritzenhoff/ Sanssouci Verlag/ Sarah Wiener Stiftung/ Schleich/ Steffen Verlag/ Tausche Taschen/ Thienemann Verlag/ Weck Verlag/ Weight watchers/  …
Awards
Stipendiatin Stiftung Kulturfonds/Bologna Children's Bookfair Exhibition/Beste Gartenbücher DGBP/ Shortlist BSA/Longlist schönste Bücher/Projektförderung VG Bildkunst/
Merken
Merken
Merken
Merken
Merken
NEWSLETTER-SUBSCRIPTION:
If you are interested: I'll send my illustration of the month every month into your inbox. Along with some surprises and interesting facts about my life. You can always sign out and unsubscribe if you don't like it. And I will not use your email for anything else. I don't like junk emails myself. So I promise to only send you nice eye candy. You have to check that little box wich says in German what I just told you.
Merken
Merken